In-Office Procedures & Surgery
Dr. Santos has performed sinus surgery under general anesthesia since 1986. He has instructed residents and physicians in the United States and overseas on safe and effective sinus surgery. With recent major advancements in local anesthesia and oral sedation, in-office sinus surgery has become a reality as safe and painless.
Many sinus surgical procedures that used to be performed in the operating room under general anesthesia, can now be performed in the office such as turbinate reduction, septoplasty, conservative endoscopic sinus surgery, polyp removal, stereotactic balloon dilation and tumor mass biopsy; thereby, avoiding general anesthesia, hospital costs and increased time. Dr. Santos began offering in-office surgery in 2014 and has had no wound infections and no surgical complications.
The procedures we offer at Santos Sinus Center include: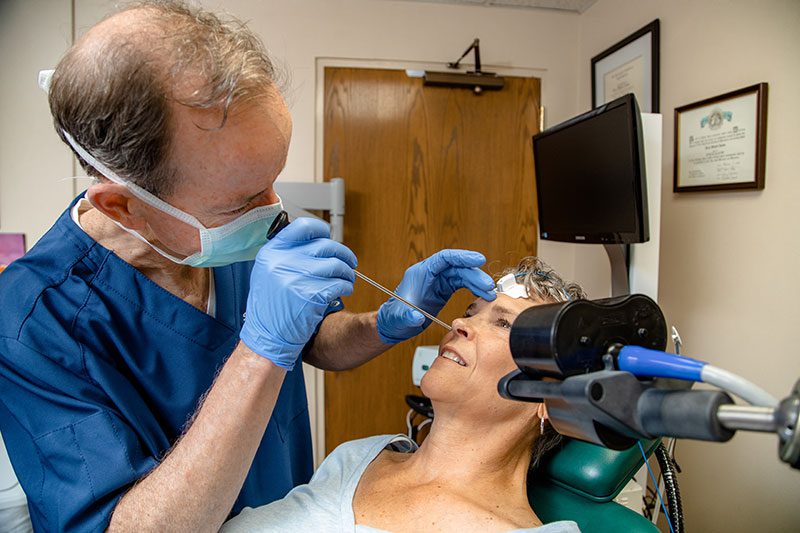 Nasal Endoscopy:
A painless fiberoptic evaluation of the sinuses using topical anesthesia and decongestion. Fiber optics allows excellent visualization into the nasal cavity and surgical sinus cavities thanks to angled and flexible scopes. These detailed images provide diagnostic information that directs more accurate patient care.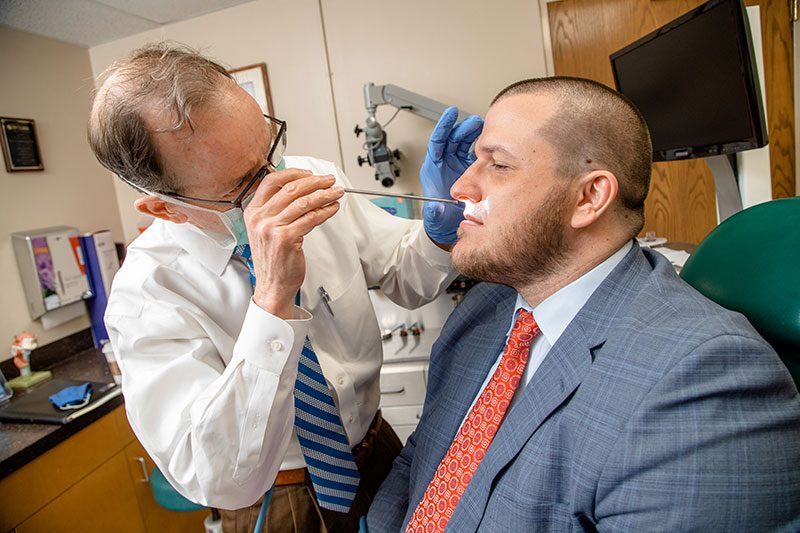 Nasal Endoscopy with DNA Sampling:
After topical local anesthesia, a sinus scope is introduced into the nose and a small tipped cotton swab is placed at the source of the pus from the sinus opening, allowing a highly accurate identification of which bacteria and or fungus is present after the specimen is processed. This information is then used to select the proper topical antibiotics and or antifungals for treatment.
"I've dealt with ongoing sinus infections for 15 years. I had trouble sleeping, headaches and dizziness. Dr. Perry Santos opened my airways with an in-office balloon procedure without going under anesthesia. It was as easy as getting a cavity filled at the dentist. Since then I haven't have any issues. I wish I'd gone to Santos Sinus Center 15 years earlier!"
David Bohn, M.D.
In-Office Sinus Balloon Dilation Patient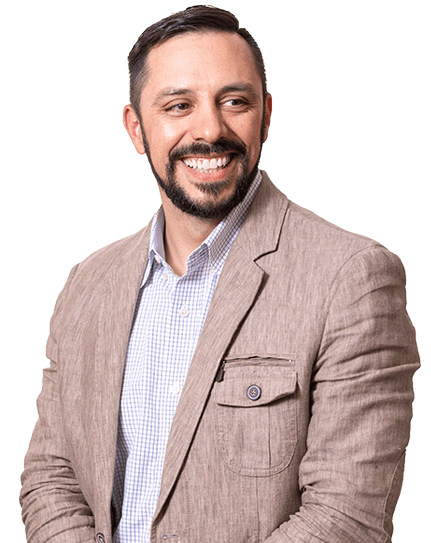 In-Office Endoscopic Sinus Surgery:
Advances in technology and local anesthesia have provided the opportunity for many in office procedures.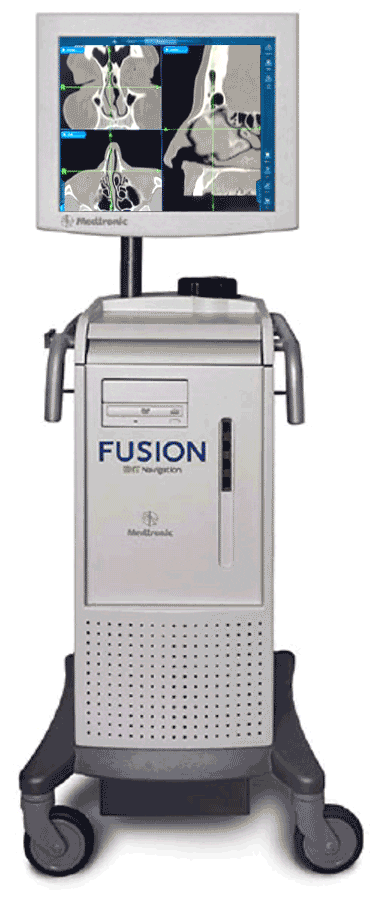 Balloon dilation of the sinus tract is a technique that provides for the preservation of the sinus tract mucosal lining. The mucosal lining is composed of respiratory cells with mucus secreting glands and cilia (miniature hair cells that move and direct mucus out of the sinuses and nose). Balloon technology provides dilation of the narrowed sinus tracts with preservation of the mucosal lining. A dilated sinus tract reduces the resistance of the mucus clearance, resulting in healthier sinuses.
Unlike sinus surgical procedures that remove the sinus tract, respiratory lining, mucus glands and cilia, which results in scar tissue formation, balloon dilation preserves the respiratory lining, mucus glands, and cilia. It also provides for normal functioning of the sinus and sinus tract to efficiently remove contaminants, allergens, and bacteria from the sinuses.
Stereotactic Balloon Dilation refers to the three-dimensional localization of the balloon apparatus in the nose, with localization of the tip of the balloon device visualized virtually. The accuracy of the Medtronic Stealth Stereotactic unit is between 1-2mm. This level of precision provides for exact and the safest placement of the balloon into the narrowed sinus tracts.
Sinus CT Scans:
CT scans of the sinuses allow visualization of the nasal, septal, and sinus structures. Once taken, the images of the scan are carefully reviewed on the monitor with each patient and their family. We believe patient education is an important part of understanding the problem and helping the patience know how to manage sinus complaints moving forward. The CT scan can demonstrate if there is a septal deviation, chronic infection, or closed or narrowed sinuses that will not adequately drain, polyps, or tumor.
(Sino-Nasal Outcome Test©)
The SNOT Scale is a validated statistical quality of life instrument for assessing sinus health. Each symptom category is scored from normal sinus health (0) to the worst health (5). Each of these symptoms are then added together to obtain a final score. Patients fill out the SNOT scale forms from their initial evaluation, then after medical treatment (if appropriate), then after surgical management (if indicated). We believe data drives innovation, so our team began compiling and analyzing our recorded patient "SNOT scores" from 2015 to current.
The graph below illustrates our treatment methods in progressive order and our patients' overall average SNOT scale score after completing each one.
Initial Evaluation

AFTER MEDICAL THERAPY | 36% Improvement, compared to initial evaluation

After Sinus Surgery | 76% Improvement, compared to initial evaluation

Long Term After Sinus Surgery | 81% Improvement, compared to initial evaluation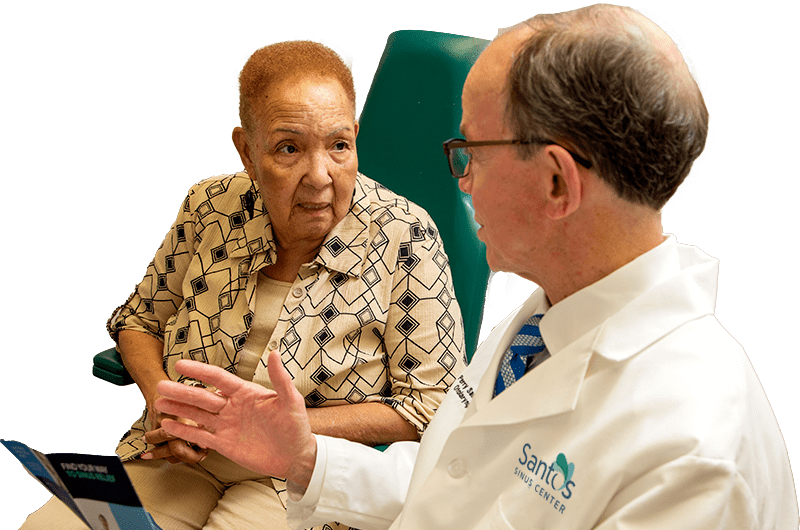 "I was very dizzy and afraid of falling.  My head felt like it was full of water for nearly 4 years.  After visiting Santos Sinus Center, they treated me for a severe sinus fungus infection.  Today I feel amazing.  Dr. Santos is very thorough and caring.  I'd give him 10 stars if I could!"


Barbara Bowers
Sinus Fungal-Infection Patient
Other procedures that we can carry out either in the office or operating room include:
Propel stents placement. An anti-inflammatory steroid (mometasone) releasing absorbable stent, aiding in decreasing inflammation and scarring during the post-operative healing phase, typically used after extensive polyp removal.
Latera implant placement. An absorbable implant to stent open the soft tissue of the nasal crease to prevent nasal valve collapse during inspiration.
Eustachian tube balloon dilation. Patients with eustachian tube dysfunction generally improve with conservative medical sinus management. However, other patients will improve with sinus surgical procedures. In the instance that a patient still experiences eustachian tube dysfunction after a surgical procedure, they may be a candidate for the Acclarent eustachian tube balloon dilation technique.
What Our Patients Are Saying
" I was having chronic sinus infections that were drastically affecting my asthma. Dr. Santos recommended surgery for my deviated septum. I did the surgery right in his office. It was fascinating. I recovered really quickly…its been two years and I'm still seeing all of the benefits. I'm glad I did the surgery. My asthma is doing much better."

Joy Fischer
In-Office Septoplasty & Balloon Dilation Patient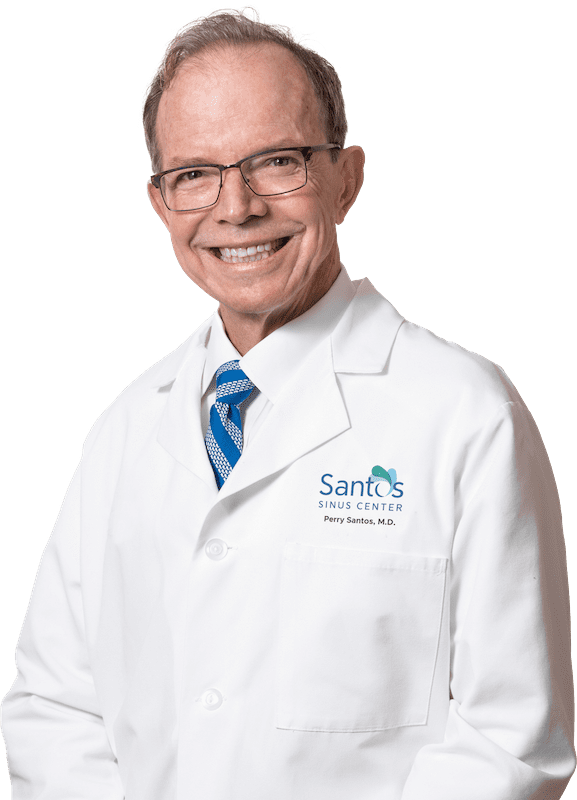 The Santos Sinus Center Difference
Dr. Perry Santos takes a conservative, patient-first approach and utilizes the latest technology and methods in the field of Otolaryngology - Head and Neck Surgery. His unique five-step process identifies the most beneficial treatment with the least amount of risk and recovery time possible specific to each patient's history and conditions.
Meet Dr. Santos and learn more about his 5-step process.