Greetings from the Santos Sinus Center!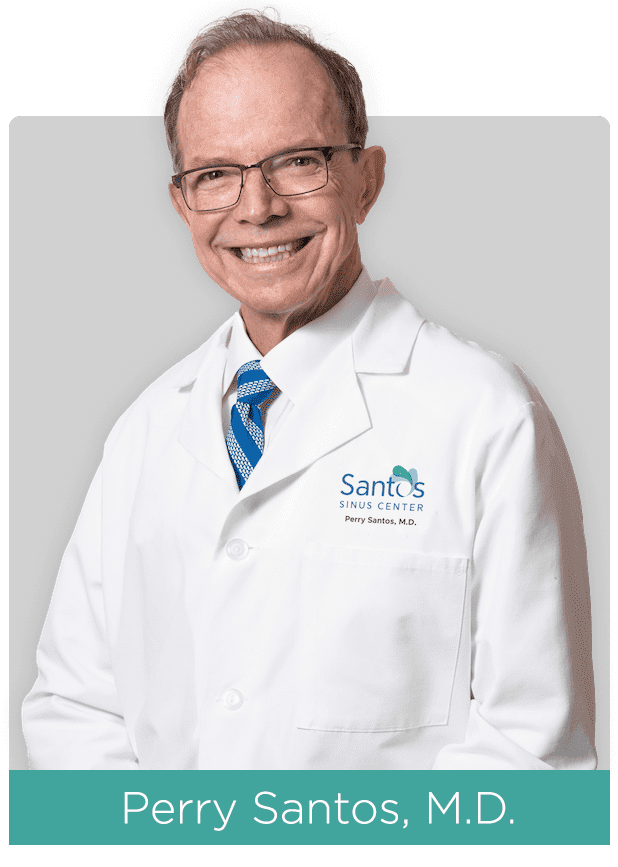 Several sinus patients have asked me about the potential benefit of spraying commercially available Iodine containing nasal sprays for:
Treatment of COVID-19 infection
Prevention of COVID -19 infection
These are great questions, so I reviewed the medical literature to find out more specifics and hopefully clarify the subject.
Iodine is the 53rd element on the Periodic Table of Elements and has similar characteristics to Chlorine. Iodine comes in several forms. The most common for topical nasal and oral medical application is Povidone-Iodine. Safety studies have been conducted with 2.5% Povidone-Iodine Nasal solution with exposure to human nasal cavities with no complications noted: including cilia activity, mucosal respiratory lining or thyroid hormone changes after months of use (1).
Several in vitro (cell culture) studies have found Povidone-Iodine to deactivate many upper respiratory cold viruses, including Coronaviruses. Povidone-Iodine Nasal preparations have been applied to the COVID -19 virus in a laboratory setting (non-human testing) and found the preparation to deactivate the virus (2). Based on these types of encouraging laboratory studies, investigators took the next step to see if Povidone-Iodine nasal spray could be used to help treat those infected with COVID -19. A triple blinded, randomized, placebo-controlled clinical trial evaluated Povidone-Iodine Nasal Spray in patients recently infected (within five days) with the COVID -19 virus. The study demonstrated treatment safety but no change in the recovery rate based on PCR testing. No patients in any group were hospitalized or developed anosmia (loss of smell) (3). In another similar study, patients with COVID -19 infection and treated with Povidone-Iodine Nasal spray had no difference in their recovery and nasal viral numbers compared to those without the Povidone-Iodine Nasal spray (4).
The next important question to ask: does prophylactic (preventative) use of Povidone-Iodine Nasal spray, if one is exposed, reduce your risk of infection from COVID -19? There are currently three ongoing studies in humans (two randomized controlled trials and one non-randomized controlled trial). The goal is to evaluate if health care workers are at risk for COVID -19 infection using Povidone-Iodine nasal sprays, mouthwashes or other anti-microbials to help decrease the risk of COVID -19 infection (5).
So, in summary, it appears that Povidone-Iodine Nasal Sprays and mouthwashes are safe. However, they do not appear to alter the course of the infection once a person is infected with COVID -19. And we still don't know if the prophylactic use of Povidone-Iodine Nasal Sprays will decrease the risk of becoming infected after COVID -19 exposure! So stay tuned and stay healthy!
References:
Frank S, Capriotti J, Brown SM, Tessema B. Povidone-Iodine Use in Sinonasal and Oral Cavities: A Review of Safety in the COVID-19 Era. Ear Nose Throat J. 2020 Nov;99(9):586-593. PMID: 32520599.
Pelletier JS, Tessema B, Frank S, Westover JB, Brown SM, Capriotti JA. Efficacy of Povidone-Iodine Nasal and Oral Antiseptic Preparations Against Severe Acute Respiratory Syndrome-Coronavirus 2 (SARS-CoV-2). Ear Nose Throat J. 2021 Apr;100(2_suppl):192S-196S. PMID: 32951446.
Zarabanda D, Vukkadala N, Phillips KM, Qian ZJ, Mfuh KO, Hatter MJ, Lee IT, Rao VK, Hwang PH, Domb G, Patel ZM, Pinsky BA, Nayak JV. The Effect of Povidone-Iodine Nasal Spray on Nasopharyngeal SARS-CoV-2 Viral Load: A Randomized Control Trial. Laryngoscope. 2021 Nov 1:10. PMID: 34724213.
Guenezan J, Garcia M, Strasters D, et al. Povidone Iodine Mouthwash, Gargle, and Nasal Spray to Reduce Nasopharyngeal Viral Load in Patients With COVID-19: A Randomized Clinical Trial. JAMA Otolaryngol Head Neck Surg. 2021;147(4):400-401. PMID: 33538761
Burton MJ, Clarkson JE, Goulao B, Glenny A-M, McBain AJ, Schilder AGM, Webster KE, Worthington HV. Use of antimicrobial mouthwashes (gargling) and nasal sprays by healthcare workers to protect them when treating patients with suspected or confirmed COVID‐19 infection. Cochrane Database of Systematic Reviews 2020, Issue 9. Art. No.: CD013626. DOI: 10.1002/14651858.CD013626.pub2.